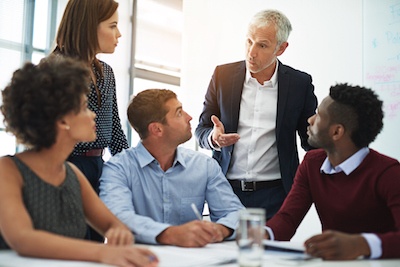 An ESOP is a Qualified Retirement Plan
ESOP stands for Employee Stock Ownership Plan. An ESOP is a qualified retirement plan that can be used as a business transition tool and as an employee ownership vehicle.
An employee stock ownership plan (ESOP) is an IRS qualified retirement plan, similar to a 401(K) Plan, that buys, holds, sells company stock, providing employees with an ownership stake in the company, as well as an additional form of compensation directly linked to success of the company.
ESOPs and 401(k) plans are both tax deferred retirement plans that are funded by pre-tax contributions.
While 401(k) Plans are funded with employer and employee contributions, most ESOPs are funded exclusively with company contributions. This means that most ESOPs are provided by the company at no cost to the employees.
While 401(k) Plans are invested in stock and bonds and other investments, ESOPs are the only retirement plan that is allowed to be primarily invested in employer securities of the company.
While 401(k) Plan account values are generally updated on a daily basis based on the results of the stock market, ESOP account values are generally updated once per year. This is because most ESOPs own privately held stock. Since there is not a stock market for privately held stock, the ESOP trustee has to obtain a valuation from an independent appraiser once per year.
A leveraged ESOP is the only retirement plan that is allowed to borrow money. It is also the only retirement plan allowed to enter transactions with "parties-in-interest" (e.g. the company, owners). These special ESOP rules allow ESOPs to be able to purchase stock from the company or owners of the company.
Check out this brief animated video to learn more about ESOPs.
Did you know? Employee Owned Companies are 235% Better at Job Retention!