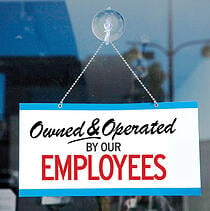 A report, Growing the Wealth: How Government Encourages Broad-Based Inclusive Capitalism, discusses how inclusive capitalism, "when partnered with democratic workplace practices, has a proven record of helping workers and businesses alike in a myriad of ways. Additionally, it is an economic philosophy that can draw bipartisan support."
The report is a reminder of the benefits of Incorporating an ESOP in your Exit Strategy. Growing faster and being more recession proof, providing greater employee stability and job satisfaction, and rewarding employees and preserving a company's legacy are just some of the benefits. Other benefits include:
1) Enables a business owner to Sell in 60-90 Days with an ESOP Built-In Buyer, providing Diversification and Liquidity, while at the same time Retaining Control of the Company and Protecting Local Jobs and the Local Community,
2) Increases the After-Tax Proceeds for the Seller, Providing a Greater Overall Return,
3) Pays For Itself by Eliminating Company Income Taxes and Increasing Company Cash Flow,
4) Provides an opportunity for an Additional Rate of Return of 10-15%+, and
5) Offers Additional Opportunities to Find Value for the Business Owners.
In addition, the 22nd Annual ESOP Economic Performance Survey (EPS) found that 94% of ESOP companies found that creating an ESOP was "a good business decision that has helped the company."