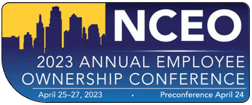 ESOP Partners is a sponsor and speaking at the 2023 Annual Employee Ownership Conference, being held April 25-27, 2023, at Kansas City Convention Center in Kansas City, MO.
The annual conference of the National Center for Employee Ownership (NCEO), focuses on employee ownership and employee involvement. You'll have a chance to learn and network with others who are at all stages of their ESOP journeys. This event will give you the opportunity to talk one-on-one with us at booth 22 and other ESOP professionals about your ESOP questions and concerns.
ESOP Partners P
resen

tation

"From Burnout to Flourishing: Develop High-Quality Connections to Increase Employee Engagement"
Tuesday, April 25
2:15 PM – 3:15 p.m.
Co-presented by Jason Wellman, Director Ownership Culture
Presentation Overview
Stressed? Burned out? Coasting? Whether this is you or your team, there is something you can do about it! From the latest research in positive psychology, learn how to build High-Quality Connections—it's fun, it's (psychologically) safe, and it's very effective. Discover the four questions you can ask yourself and your team that create stronger and more resilient relationships at work so people can bring home a smile to their families. While you will definitely walk away feeling good, you will also leave with pragmatic ideas you can implement that are based on the science of positive psychology. Imagine building or improving a culture where everyone feels respected and trusted. Imagine what it would be like to have fun with everyone supporting each other. Meetings don't have to be boring, and your job can become more fulfilling—it is all a choice.

Learning Objectives:
Understand what employees want from work and how small changes lead to big improvements




Determine how to lead a team (or themselves) to apply the High-Quality Connections Framework to job roles and company routines




Know how to apply the B.O.S.S. method (Build on Small Successes) to foster High-Quality Connections



Additional ESOP Partners Team Members Attending
For more conference information and registration, visit the NCEO website.