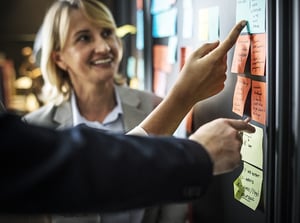 "Live your values. If you don't know what they are, go find out." -Art Barter
When an organization develops a culture based on a strongly held and widely shared set of beliefs that are supported by the business strategy, amazing things happen. Based on an extensive study, employee ownership increases sales 2.3 to 2.4% per year over what would have been expected without an ESOP (Employee Stock Option Plan), reports the National Center for Employee Ownership (NCEO).
Culture is a set of core values translated into behaviors. It is an expectation of how things will be done. When an organization has a strong culture, three things happen; employees know how leadership wants them to respond to any situation, employees believe the expected response is the proper one, and employees know they will be rewarded for demonstrating the organization's values. Developing a strong ownership culture begins with identifying the organization's values and defining the behaviors that align with these values.
Defining values and behaviors are the beginning of the culture roadmap. Walking the talk and integrating the values in all that you do will bring them alive. Leadership development, recruiting, performance management, and recognition and reward programs present opportunities to strengthen the impact and reinforce the behaviors. Perhaps rebranding the "Employee Handbook" to the "Owner's Guide" is a simple but subtle transition. An "Individual Owner's Scorecard" defines the performance management program with merit awards designed to reward the ownership culture. Hiring future leaders with values that align with the organization's values and following a management incentive plan that rewards short-term successes further reinforces this culture.
Define your organization values and build your employee ownership culture in all that you do. You will see the value of the investment.