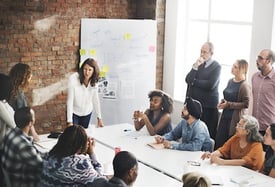 Because you have invested significant time and resources in establishing and maintaining your ESOP, it makes sense to ensure that you are getting the most out of it. One effective way to maximize the benefits of your ESOP is to build and sustain an ownership culture. Studies have found that companies with a strong ownership culture outperform their counterparts.
Unfortunately, simply implementing an ESOP will not create an ownership culture, so whether you are just getting started or you have a fully engaged team with a strong ownership culture, here are some "checkup" questions to help you measure the current state of your ownership culture.
1. Do you have an ESOP communications plan designed to build and sustain an ownership culture?
To implement and maintain a strong ownership culture, a cohesive plan is essential. Prepare a written communications strategy and revisit it on a regular basis. Start by defining the objectives of your ESOP communications program, which should be tied to building and sustaining an ownership culture.
The first component of your overall strategy should be a training plan, including the means to "train the trainers." All employees will need to learn the basics of ESOP, including a clear understanding of what an ESOP is, why it exists, and how your company's ESOP works. An effective training program will start during the hiring and orientation process and continue when plan participation begins and on a regular basis thereafter.
You should address how the company will develop and promote the rights and responsibilities of being an employee owner. These ideas should be communicated often and, where appropriate, incorporated into the company's mission, vision, and value statements, as well as job descriptions and performance appraisals.
You also should incorporate a budget for conferences, professional memberships, training materials, and outside consultants. Keep the ESOP fresh in the minds of the employees through tools such as the company's intranet, webinars, brown-bag lunches, newsletters, or games. Remember that events such as your annual ESOP meeting and employee ownership month should also be incorporated into your ESOP communications plan.
Once you have a communications plan in place, who will implement it?
2. Do you have an ESOP communications committee that has sufficient time and resources to build and sustain an ownership culture?
While upper management will need to be involved throughout the implementation of your communications plan, you will enable greater employee buy-in if you include employee representatives from various parts of your organization. An effective way to obtain broad representation is to establish an ESOP communications committee. In fact, many organizations include the committee in the process of developing the communications plan. This type of committee usually functions in an advisory capacity and does not have any formal authority or fiduciary responsibility.
There are no specific rules for forming the committee. It is important that the committee is large enough to broadly represent the various components of your business, yet small enough to operate effectively and efficiently. Management will often select the initial members of the committee, and the committee will subsequently implement a staggered term and election process for additional members. Remember that an ESOP communications committee cannot be effective unless management clearly defines the purpose of the committee and provides the time and resources for it to be successful.
3. Are building and sustaining the ownership culture part of a long-term corporate strategy that is monitored by the Board of Directors?
You are unlikely to develop a strong ownership culture without a commitment to employee ownership by the Board. Since the Board is responsible for long-term corporate strategy, including employee ownership as a part of the company's strategic vision is a great way to make a commitment to this principle and ensure it remains a key part of the company culture. The Board can reinforce this strategy by paying attention to ESOP issues on a regular basis, monitoring the ESOP repurchase obligation so that the ESOP remains sustainable in the long term, and strengthening the articles or bylaws by stating that employee ownership is a purpose of the corporation.
Some companies give ESOP participants more liberal voting stock rights than are required by law. Others have nonmanagement representation on the Board (actually holding a seat or in an advisory capacity). Whether or not employees are formally involved, a key component in developing a strong ownership culture is getting employees to participate in the decision-making process.
4. Do you promote an ownership culture that embraces participative management?
Simply giving ownership to employees via shares in the ESOP will not create an ownership culture. Studies have shown that job satisfaction and employee engagement are driven by a meaningful ownership stake and active participation in the decision-making process. The idea behind participative management is to offer employees a genuine role as decision makers. This can be accomplished by giving employees full decision-making authority or by creating a forum in which employees can provide input. Improving employee engagement can lead to increased productivity, efficiency, and quality, and it also can result in stronger employee support for decisions. But it is important to note that employees will be able to maximize the benefits of participating in the decision-making process only if they are aware of the key drivers of the financial success of the company.
5. To what extent do you provide financial training and share financial information?
Many companies with a strong ownership culture share financial information with employees at all levels of the organization. Many employees will also need some financial training to understand and evaluate this information. Identifying each employee's key economic drivers to the bottom line and linking employees' performance to their respective economic drivers will create a work environment focused on the areas where employees can make the biggest financial impact. Setting goals, using short-term incentives, and recognizing results are other ways to use financial information to increase employee engagement and build and sustain an ownership culture.
Next steps
Performing this checkup is one way to evaluate your ownership culture. Other means include employee surveys, or an employee focus group. The checkup list shows there are many components to a strong ownership culture, and each item merits its own focused discussion. Companies with strong ownership cultures will tell you that their cultures were not created overnight; rather, they have and continue to evolve. To get started, perform your checkup, assess your status, make an organizational commitment to building or improving your culture, implement appropriate changes, and celebrate your successes. The development of a strong ownership culture is within your reach!
A version of this article was originally written by Aaron Juckett for The ESOP Report.