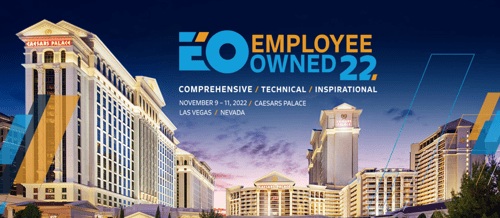 ESOP Partners is proud to be a sponsor and speaker at The ESOP Association's
Employee Owned 2022 conference being held November 9th-11th at Caesars Palace in Las Vegas, NV. Join us along with ESOP (and non-ESOP) company executives, industry professionals and employee-owners in a series of educational sessions, peer-to-peer learning, engaging speakers and fun networking events.
Click here to see the program and five tracks at one of the largest employee ownership gatherings in the world.
In attendance from ESOP Partners:
Jason Wellman
Director, Ownership Culture
Send Jason an e-mail
*Speaker (Strategies to Improve Employee Engagement)

Ryan Kuchta
Director, ESOP Administration
Send Ryan an e-mail
*Speaker (Advanced Compliance Issues in ESOP Administration - Part II)


Contact us today for a free consultation. Stop by booth 32 for some fun swag!