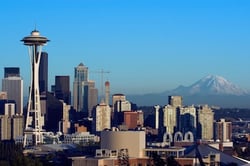 ESOP Partners will be sponsoring the upcoming NCEO (National Center for Employee Ownership) Conference in Seattle, Washington, April 24-26.

ESOP Partners President, Aaron Juckett, and Director of Administration, Kevin Rusch will be attending the conference and participating as speakers. Aaron will also be facilitating a discussion about ESOP sustainability and strategic planning at Thursday's Expert Roundtable Luncheon.
The NCEO is set to be well-attended next week with over 1,000 attendees and exhibitors already registered to participate in 88 breakout sessions exploring a variety of critical issues related to the installation and ongoing management of ESOPs (Employee Stock Ownership Plans).
THE ESOP PROS™ PROCESS - Conf Exhibit Booth #7

"Do you know what your ESOP repurchase obligation is?"

Join ESOP Partners at our booth to discuss your ESOP's repurchase obligation and our proprietary ESOP PROS™ Process developed by ESOP Partners to help you ensure the sustainability of your ESOP.

If you cannot make it by the booth, Aaron will be available throughout the week to schedule a no-cost ESOP PROS™ consulation at a time that is conveninent for you.
Come and Join Us At Next Week's Breakout Sessions!
ESOP Partners will be participating and speaking at the following breakout sessions next week. We hope to see you there!
"Administrative Mistakes and How to Fix Them"
Thursday, April 25
10:15 a.m. - 11:30 a.m.


Mistakes can easily happen as part of the ongoing administration of your ESOP and present a costly burden to your company. Join Aaron as he participates in a session on Thursday to review how the IRS's updated correction program (EPCRS) can help keep you, your ESOP, and your company out of trouble when the inevitable mistake or omission occurs.
"ESOP Plan Design Basics"
Friday, April 26
10:30 a.m. - 11:45 a.m.

To be sure you can achieve company objectives, there are many factors to review and consider when designing your ESOP plan. Kevin will participate as session chair to provide an overview of ESOPs and explain plan design options to consider when creating an ESOP.