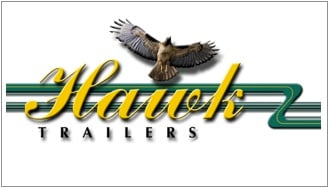 ESOP Partners announced the successful sale of Hawk Trailers, a manufacturer of high quality horse trailers out of Manawa, Wisconsin, to an Employee Stock Ownership Plan (ESOP) representing the company's employees.
Employee ownership was a natural fit for Hawk Trailers where employees are considered family! And now today, the employees of Hawk Trailers are fully vested in the success of their company, having purchased 100 percent of the stock from company owners Brian Timm and Joel VanDenHout.
Hawk Trailers is a custom design manufacturer who has built a stellar reputation by working with a highly trained staff of professionals focused on continued process improvement and customer driven service. The company culture of Hawk was already one of employee ownership. On their website, the company proudly highlights Hawk employees as "a family of friends working together to achieve better overall customer service", making an ESOP a natural fit.
Brian Timm and Joel VanDenHout, the owners of Hawk Trailers, made the employees a top priority. "We made the decision to sell to an ESOP to reward the employees who have helped make Hawk Trailers what it is today," said Brian Timm, President of Hawk Trailers.

ESOP Partners worked with Hawk Trailers and company management to plan, structure and execute the sale. The ESOP transaction used the ESOP Succession Advantage™ Ownership Transition Process, developed by ESOP Partners, to streamline the ownership transition while maximizing cash and tax benefits. ESOP Partners will continue to work with the company both as an ESOP consultant and an ESOP third party administrator (ESOP TPA).

"Selling to an ESOP significantly increases the likelihood that a company will remain locally owned, jobs will remain in the local community, and the legacy of the company will continue," says Aaron Juckett, President of ESOP Partners. "Brian and Joel were looking for a way to meet their business transition objectives while protecting the employees and the local community. The fact that the ESOP sale was the most cash efficient and tax efficient solution made the decision even easier."
About ESOP Partners

ESOP Partners is an ESOP consulting and administration firm that provides a single ESOP expert as a point of contact throughout the lifecycle of the ESOP. The Company works with business owners and companies considering an ESOP to provide ESOP feasibility, plan design, and full ESOP implementation services. ESOP Partners also provides support for ongoing ESOP companies, including ESOP TPA services, distribution and repurchase obligation planning, and consulting services covering corporate governance, ESOP culture, employee communications, and second stage transactions.

About Hawk Trailers, Inc.

Hawk Trailers, Inc. is a privately owned, customer driven company located in Manawa, Wisconsin. The company maintains close relationships with "factory authorized" dealers all across the United States. The company's goal is to manufacture high quality horse trailers at a fair price that exceeds the expectations of their customers. Hawk has achieved this goal by listening closely to their valued customers, and understanding that standard designs are great for manufacturing, but customized trailers are what customers really need. They take great pride in their ability to supply customers with the individually designed trailer they require.

About ESOPs

ESOPs are qualified retirement plans that buy, hold and sell company stock for the benefit of the employees, providing an ownership stake in the company. ESOPs are the only retirement plan allowed to borrow money to purchase stock and are generally funded only by the Company. Selling part or all of a business to an ESOP enables a business owner to sell to a built-in buyer in as little as 60-90 days at full fair market value. There are many significant tax and cash flow benefits of selling to an ESOP. An ESOP also allows for a better-managed ownership transition, preservation of local jobs, and the maintenance of a company's legacy in the community. According to the ESOP Association there are approximately 10,000 ESOPs in place in the U.S., covering 10.3 million employees (10 percent of the private sector workforce).