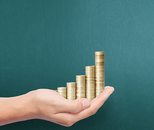 We have been discussing how the recent ESOP Economic Performance Survey (EPS) revealed that 93% of ESOP companies found that establishing an ESOP was "a good business decision that has helped the company." While there are many reasons for this, one of the significant reasons is because S Corporation ESOP companies are not subject to income taxation (federal and most states), increasing cash flow and providing the company with a competitive advantage. Yes, you read that right, S CORPORATION ESOP COMPANIES ARE NOT SUBJECT TO INCOME TAXATION!
ESOP Key Takeaway #2:
Selling to an ESOP eliminates the ongoing tax (and S distribution) obligations of the company, making the company tax exempt (via the tax exempt shareholder) and saving the company 40%+ in cash flow each year. This money is initially used to fund the business transition and then creates a competitive advantage for the company.

How are S Corporation ESOP companies not subject to income taxation?
S corporations pass through their corporate income to their shareholders for federal income tax purposes. The shareholders receive an IRS Form K-1 and report the flow-through of the income on their personal tax returns based on their individual federal and state income tax rates.
As a result of the Small Business Job Protection Act of 1996, ESOP trusts are eligible S Corporation shareholders. The new S Corporation shareholder, the ESOP trust, is a tax exempt entity not subject to income taxes. The Taxpayer Relief Act of 1997 and IRC Section 512(e) repealed the application of Unrelated Business Taxable Income (UBTI) for ESOPs effective for taxable years beginning on or after January 1, 1998.
This is a very powerful tax advantage that provides the cash flow to fund the purchase of the company from the selling shareholders. Once the debt has been paid the additional cash flow provides a company with a competitive advantage over their non-ESOP counterparts.
Is this an unintended loophole in the Internal Revenue Code?
The ESOP tax benefits are specifically cited in the legislation and are not an unintended consequence. Congress considers employee ownership via Employee Stock Ownership Plans (ESOPs) to be good public policy and has specifically created this benefit to further incentivize ESOPs and employee ownership.
Incorporating an ESOP in your Business Exit Strategy provides a winning value proposition for all stakeholders, including the business owner(s), the company, key management, the employees, the community, and the company's professionals and vendors.
How can the government afford the ESOP tax benefits?
It is also important to note that the tax advantages are really nothing more than a tax deferral. An S Corporation ESOP company "increases tax collections from both employees and employers," as the additional value created by the tax savings generates additional federal and state income taxes in economic activity and because ESOP participants pay taxes on the additional wealth when their accounts are liquidated from the ESOP. In fact, in 2010 ESOPs Saved More Than $14 Billion in Federal Revenues because employees for ESOP companies are four times less likely to be laid off and less likely to leave a company.
How does the government prevent abuse of these ESOP tax benefits?
To prevent abuse of these significant tax benefits, Congress established the requirements of IRC Section 409(p) Anti-Abuse Testing to help ensure that an S Corporation ESOP company provides broad-based ownership and coverage that benefits rank-and-file employees.
The company cash flow savings achieved by a 100% owned S Corporation ESOP are in addition to the increased after-tax proceeds generated by incorporating an ESOP in your business exit strategy.