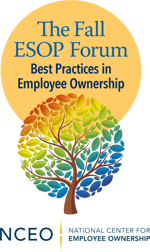 ESOP Partners is proud to be a sponsor and speaker at NCEO's 2020 Fall Forum being held virtually on September 14-16.
Join us and other employee-owners for the Fall ESOP Forum, a three-day seminar featuring up-to-date best practices with over 40 immersive and educational sessions led by experts in the latest in employee ownership legislation, research, and communication and culture. Let's connect - in virtual form.
ESOP Partners Presentations
"ESOP Basics: ESOP Distributions"
Monday, September 14th, 1-1:55 pm Central
Presented by Ryan Kuchta, ESOP Consultant
*Basic ESOPs track

Ryan is an ESOP Consultant with ESOP Partners, providing quality control and highly technical assistance as part of the administration team. Ryan assists ESOP companies by working through technical issues, reviewing their ESOP for inefficiencies, and working directly with clients to maximize their ESOP potential. He welcomes new clients to and advises new ESOPs in developing a framework for a successful plan. He also works with the ESOP Partners management team on training and awareness of industry changes.
Expert One-on-One Appointment
Eric Strebe, Business Development Consultant
Wednesday, September 16th, 9-10 am Central
Topic: "What to Expect When Selling to an ESOP"
Schedule a meeting with Eric: https://rb.gy/hvlrya
Click here to see the program and agenda.
Let's discuss how ESOP Partners' Third-Party Administration, Repurchase Obligation Studies, Distribution Policy, and/or ESOP Ownership Culture and Communication services can help you. Register today and enjoy a $25 discount! Enter code: NCEOFF20