ESOP Partners is proud to be a Platinum Sponsor and speaker at the Midwest Regional Conference on September 20-22, 2022 in Milwaukee.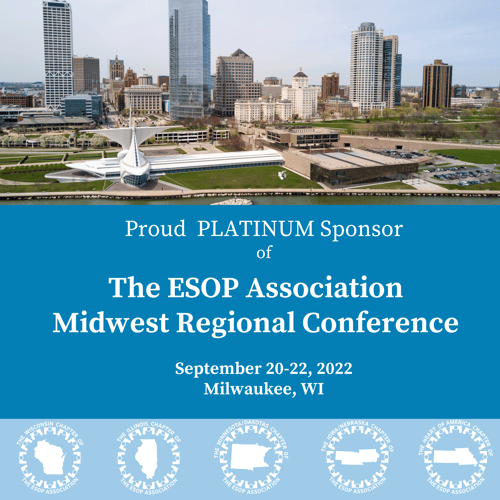 Join the WI, IA/NE, IL, MN/DAKS, and HOA Chapters of The ESOP Association for a 2 1/2 day regional conference packed with over 40 educational sessions across 5 tracks and ESOP Roundtables.
ESOP Partners' P
resen

tations


"Establishing an ESOP Communications Committee" and "The Steps to Launching or Relaunching your ESOP"
Wednesday, 9/21 9:30 am - 10:30 am CST
Wednesday, 9/21 2:45 pm - 3:45 pm CST
Presented by Jason Wellman, Director of Ownership Culture
*Communications *ESOP 101
Jason is the Ownership Culture Director with ESOP Partners. He helps Employee-Owned companies by developing a comprehensive Ownership Culture through proactive educational resources for all participants to improve their understanding of the unique benefits associated with Employee Ownership. He is a current member and past chair of TEA's Advisory Committee on Ownership Culture. Co-Vice President of the Membership Committee for the Wisconsin Chapter and member of the MN/Dakota's Membership Committee.
---
Click here to see registration details and to see the program agenda. Contact us today for a free consultation and we hope to see you at one of our presentations!