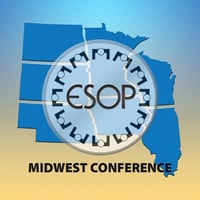 ESOP Partners will sponsor and speak at The ESOP Association's Virtual Midwest Conference held September 17-18, 2020.
This year's Midwest Regional Event has gone virtual - ensuring a safe and invaluable experience for all attendees.
Attend and gain expert insights from those who have lived the ESOP experience and can speak from their first-hand knowledge—your peers in ESOP companies and the professional advisors in your region who help them thrive. This conference includes:
3 Concurrent Tracks Packed with Great Content

ESOP 101, Communication & Culture, and Topics of Interest
The content will be geared especially for middle managers, employee owners, and members of ESOP committees. This virtual event is the perfect way to educate.


ESOP Partners Presentations
ABC's of Distributions and Repurchase Obligations
ESOP 101 Track
Friday, September 18, 10:30 - 11:20 am Central
Co-presented by Jake Niehof, ESOP Administrator

This session will address distributions, distribution policies, and a non-technical overview of repurchase obligation. We will discuss what it is, how it works, why you should care about it, and the reason it is a great employee benefit. We will touch on how significant unexpected events, like COVID-19, can impact how distributions are handled.
Click here for more information about the conference, including agenda and registration details.