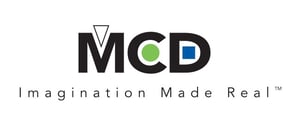 Appleton, Wis. (April 15, 2015) – ESOP Partners, an Employee Stock Ownership Plan (ESOP) consulting and administration firm, has announced the successful completion of a sale of MCD, Inc., one of the largest graphic arts products and finishing companies in the Midwest, to its employees via an ESOP representing MCD, Inc., employees.
An ESOP is a qualified retirement plan that buys, holds and sells company stock for the benefit of the employees, providing them with an ownership stake in the company. Dave Boyer, the now former CEO and former owner of MCD, Inc., finalized the sale in February 2015 with the assistance of ESOP Partners.
"Selling a business to its employees through an ESOP is perhaps the single most important decision a company can make. ESOP Partners helped MCD, Inc., at every step along the way including owner education, business modeling, financial advice, gathering a team of outside experts, and educating our employees," said Boyer. "Each person on the ESOP Partners team worked on a common plan, were responsive, and most importantly, were very caring and client-focused in this very important ownership transition."
Aaron Juckett, ESOP Partners president, said that MCD, Inc., quickly identified an ESOP sale as the most practical strategy for ensuring the long-term success of the company. "There are several tangible benefits to owners when selling to an ESOP. But an ESOP sale is one of the only ways to transition ownership of a company that also has significant benefits to employees. MCD recognized that it's critical to reward those who've contributed so much to the company's success and to involve them in a meaningful way in its future," he said.
ESOP Partners will continue to work with MCD, Inc., as an ESOP consultant and third-party administrator.
About MCD, Inc.
Founded in 1972 and owned since 1998 by Dave Boyer and Joan Philip, MCD, Inc., applies its creative and technical skills in die cutting, foil stamping, embossing, and specialty coatings to enhance the visual appeal of communications pieces that require high levels of differentiation and impact. MCD, Inc., is one the Midwest's largest graphic arts products and finishing companies, serving commercial and specialty carton printers, brand marketing companies, educational book publishers, gift and credit cards manufacturers, and magazine publishers.
About ESOP Partners
ESOP Partners is an ESOP consulting and administration firm that provides a single ESOP expert as a point of contact throughout the lifecycle of the ESOP. The Company works with business owners and companies considering an ESOP to provide ESOP feasibility, plan design, and full ESOP implementation services. ESOP Partners also provides support for ongoing ESOP companies, including ESOP TPA services, distribution and repurchase obligation planning, and consulting services covering corporate governance, ESOP culture, employee communications, and second stage transactions.
About ESOPs
ESOPs are qualified retirement plans that buy, hold and sell company stock for the benefit of the employees, providing an ownership stake in the company. ESOPs are the only retirement plan allowed to borrow money to purchase stock and are generally funded only by the Company. Selling part or all of a business to an ESOP enables a business owner to sell to a built-in buyer in as little as 60-90 days at full fair market value. There are many significant tax and cash flow benefits of selling to an ESOP. An ESOP also allows for a better-managed ownership transition, preservation of local jobs, and the maintenance of a company's legacy in the community. According to the ESOP Association there are approximately 10,000 ESOPs in place in the U.S., covering 10.3 million employees (10 percent of the private sector workforce).
This press release was originally published on PRWeb.