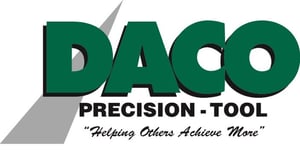 ESOP Partners, an Employee Stock Ownership Plan (ESOP) consulting and administration firm, has announced the successful completion of the sale of DACO Precision Tool Inc. to its employees via an ESOP. An ESOP is a qualified retirement plan that buys, holds, and sells company stock for the benefit of the employees, providing them with an ownership stake in the company. DACO and Randy Weber and Lloyd Kanzenbach finalized the sale in May 2017.
"I want to sincerely thank Aaron Juckett and his highly experienced, friendly team of advisors for all of their help. (They are the best!!) From the start, they were there and helped guide us all the way to the finish line. ESOP Partners kept everyone on course and made sure that everything was completed several days prior to our closing," said Randy Weber.
"Randy was looking for an exit strategy that would provide an opportunity for the employees who built the business to continue to take it forward," said ESOP Partners President Aaron Juckett. "Selling to an ESOP enables owners to sell their business to a trusted source—the employees—rather than an outside investor who may not share the same vision for the company. Plus, and ESOP sale is a highly tax-efficient option for owners."
ESOP Partners will continue to work with DACO as the company's ESOP consultant and third-party administrator.
About DACO Precision Tool Inc.
DACO was founded in 1984 by two partners (Randy Weber and Lloyd Kanzenbach). In 1988 they built their first new building in West Bend. With increased business and growing customers, they were quickly grew out of their West Bend facility. Knowing this, they purchased 7 1/2 acres of land 8 miles north of West Bend in Kewaskum, WI. In March 2006, DACO moved their complete operations from West Bend into their new building in Kewaskum. With the help from great managers and staff, Randy still oversees all day to day operations, sales, customer service, quality management, and other related areas; While Lloyd still oversees the designing, engineering, and tooling. Above all, DACO prides itself on being a high-quality business that genuinely cares about its employees, customers, and community.
About ESOP Partners
ESOP Partners is an ESOP consulting and administration firm that provides a single ESOP expert as a point of contact throughout the lifecycle of the ESOP. The company works with business owners and companies considering an ESOP to provide ESOP feasibility, plan design, and full ESOP implementation services. ESOP Partners also provides support for ongoing ESOP companies, including ESOP TPA services, distribution and repurchase obligation planning, and consulting services covering corporate governance, ESOP culture, employee communications, and second stage transactions.
About ESOPs
Employee Stock Ownership Plans (ESOPs) are qualified retirement plans that buy, hold, and sell company stock for the benefit of the employees, providing an ownership stake in the company. ESOPs are the only retirement plan allowed to borrow money to purchase stock and are generally funded only by the company. Selling part or all of a business to an ESOP enables a business owner to sell to a built-in buyer in as little as 60-90 days at full fair market value. There are many significant tax and cash flow benefits of selling to an ESOP. An ESOP also allows for a better-managed ownership transition, preservation of local jobs, and the maintenance of a company's legacy in the community. According to the National Center for Employee Ownership (NCEO) there are approximately 7,000 ESOPs in place in the U.S., covering 13.5 million employees.