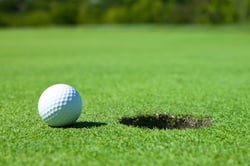 Register today for the upcoming ESOP Association Roundtable & Golf Event for your chance to have some fun on the golf course and to learn from others about their ESOP experience. In addition to an 18-hole scramble golf tournament, the event features valuable sessions where you can ask questions, share ideas and engage in facilitated open discussion with other employee owners about issues relevant to CEOs, CFOs, HR professionals, and those who are part of ESOP committees.
The event is being held Tuesday, June 24, 2014, at Western Lakes Golf Club in Pewaukee, Wisconsin. Being a good golfer is not a requirement! The tournament is a "best ball" scramble with contests, prizes, goodie bags and beverage tickets.
ESOP Partners encourages both current ESOP companies, and those thinking about becoming an ESOP, to attend the events. Speakers will provide information on topics like "Interviewing for Employee Ownership Qualities," "Tips for Communicating Your ESOP," and "ESOP Committee Best Practices," among many others.
After the morning roundtables and a burger & brats buffet, we'll hit the links.
Please join us! Not only does this promise to be a fun event but a valuable one too, with great tips and insights, and opportunities to network.
We look forward to seeing you out on the green!
Click here to register for the event now.
Check out more of the ESOP Association events taking place locally and around the U.S.!