By the time December rolls around, calendar-year employee stock ownership plans' October 15 deadline for distributing participant statements and Summary Annual Report has come and gone.
If your plan had distributions this year, they've likely been processed.
The plan's IRS Form 5500 has long since been filed.
The year is almost over, but you still have time to take care of loose ends that could cause problems if left unattended.
And there may be no better time to get plans in place for the coming year's ESOP administrative timeline. If you're looking for a little guidance and help getting started, you're in the right place.
Preparing Your ESOP for the Next Plan Year
If annual planning isn't already part of your normal ESOP administration process, now is a good time to reconsider your practice. Most companies schedule planning meetings in advance and set up recurring calendar appointments at least once a year. Depending on the plan's needs and where you are in the lifecycle of an ESOP, you may need to meet more often.
There's no prescribed time of year to hold planning meetings, but many companies make use of the time just prior to the end of the plan year — because there's still time to make and document any necessary amendments to the plan document for the current plan year. In fact, a great first step for any ESOP planning process is to revisit the most recent allocation process and address any concerns that may have arisen as your team met the current year's administration and compliance requirements.
Two other common times to meet and discuss ESOP planning are just after completing the allocation process and toward the start of the plan year.
Another smart move is to include your trusted advisors in your ESOP planning process, such as your tax professional, CPA, human resources consultants, and key leadership. As you consider whom you'll invite, you might reflect on the expertise they'll bring to the table to support planning for next year's allocation process, and how their knowledge can help solve any challenges your ESOP may face.
Why Create & Follow an Annual ESOP Administration Timeline?
An ESOP has a lot of moving parts, and some of its parts have their own sets of moving parts. For example, the allocation process can be quite complex — so in order to complete your ESOP allocation in a timely manner, you should expect to actively manage the process.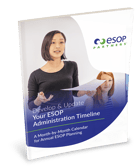 Develop & Update Your ESOP Administration Timeline
Along with the benefits come lots of responsibilities: recordkeeping, administrative, and regulatory. Let our free planner guide you!
And one of the most effective ways to manage the ESOP allocation process is by preparing, maintaining, and continuously reviewing and revising your ESOP administration timeline. By documenting all tasks, dependencies, deadlines, and responsible parties in one location, your teams have one source of truth and can easily hold one another accountable.
Your ESOP admin timeline should include every plan-related deliverable, the party responsible for it, and the due date. Accountabilities are often divided among at least some of these individuals:
Plan administrator
Plan trustee
ESOP third-party administration (TPA) firm
Accountant or CPA
Auditor
Valuation professional
Attorney
Lender
ESOP consultant
Each deliverable on an annual ESOP administration timeline might include:
Individual or party responsible for completion
Any critical prerequisites (and their accountable party)
Scheduled completion date, date completed the prior year, and actual completion date
Accountability is key, so whenever possible, designate a specific person rather than a department or firm. Also, note that you should document the actual completion date. This allows you to get an idea of real requirements for timing, which can help you make incremental planning improvements every year.
How to Create Your Annual ESOP Administration Timeline
The easiest and most effective approach is to create a list of the year's key deliverables and their deadlines, and work backward until you get to the start of the new plan year. Here are the most common key deliverables included in an ESOP admin timeline:
Reporting final account balances
Delivering participant statements and the Summary Annual Report
Conducting employee ESOP meetings
Filing IRS Form 5500
Paying ESOP distributions
Working backward, enumerate tasks that contribute to each of the main deliverables and define how many days it takes to complete each task. For example, it might take one day to organize trust statements and a week to prepare and review the trust accounting. As you lay down deadlines, you'll need to ensure the deliverables are ready on time to support any dependent tasks.
The complexity of your timeline's dependencies can vary from plan to plan and year to year. One ESOP may be very simple, and another may have multiple loans paid using both dividends and contributions, for example. This also helps to explain why a CPA and a TPA both deserve a seat at your planning table. And in more complex examples, your administration timeline should articulate the various documents needed and who'll deliver them.
Other Key ESOP Planning Best Practices
In addition to assigning real, human individuals responsible for each item, these practices can help your plan year roll more smoothly:
If you can, assign task owners who are not involved in day-to-day plan responsibilities, enabling the accountable person to stay focused on their deliverables
Ensure that appropriate company representatives are involved in the communication process, so that the allocation process team and company leadership (board members, CEO, participants, etc.) are all aware and in agreement with dates and deliverables
Define the number of days allotted to each task, because delays in prerequisites can compound in dependencies
What's Included in an ESOP Administration Timeline?
Just like every ESOP, every admin timeline is unique. Most well-managed ESOPs find that their timeline grows in detail from year to year as the ESOP matures and they discover new items needed. Other specifics, like acquisitions and dispositions, can lead companies to add their own specific items to the annual timeline, to make sure all appropriate information is gathered and provided at the right time. Generally, most ESOPs find that more detail is better.
Here are some of the most important, and most commonly included, items in an ESOP administration timeline:
Distributing preliminary diversification forms to eligible plan participants
Determining eligibility of employees to enter the plan
Reviewing a partial plan termination, if one has occurred (this can happen in cases of significant layoffs, for example)
Drafting ESOP financial statements, including the release of shares
Allocating contributions and reallocated forfeitures
Updating the plan year-end stock value
Scheduling the ESOP plan audit
Issuing participant statements that include updated vested account balances
Processing diversification elections
Processing distributions to former employees taking into account form, method, and timing of distributions prescribed in the plan's distribution policy
Filing IRS Form 5500
Distributing the Summary Annual Report
Providing the Summary Plan Description to new ESOP participants
Calculating and distributing required minimum distributions (RMDs)
Delivering any required ESOP voting ballots
Reviewing ESOP repurchase liability projections
ALSO READ: It's Time to Review Your ESOP Documents to Ensure Compliance & Success
Meeting regulatory requirements and filing deadlines are a crucial part of maintaining qualified status for your ESOP, so it makes sense that an administration timeline is a best practice.
You can start building your own annual calendar of deadlines and designated responsible parties using our free planning workbook. Just click below to download your personal copy and get started right away!