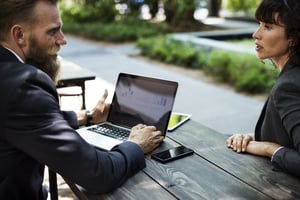 During times of change, senior leaders play a key role as an executive sponsor. According to Prosci's, Best Practices in Change Management – 2018 Edition, the greatest contributor to a successful change initiative is "active and visible executive sponsorship".

An executive sponsor is typically a C-Suite leader who oversees a business unit and is responsible for meeting project deadlines. They oversee projects and keep them aligned with the organization's strategy and direction.
During an ESOP implementation and ongoing support and buy-in, the role of the executive sponsor sets the tone for how employee-ownership is embraced in the organization.
The following 10 key activities make an executive sponsor effective during times of change:
Maintaining and articulating a clear and attractive vision for the change, showing how it links to the organization's strategy. Communicating the "Why an ESOP?".
Gaining the commitment and involvement of senior and line management. Employees want to hear from senior leadership and their direct manager regarding the change. Have you provided your management team with the tools to be successful?
Championing the change, building and maintaining a sense of urgency and priority for the need for change.
Confronting those who are blocking the change, and clearing a path for it to be successful.
Genuinely acting as a role model for new behaviors, and "walking the talk", establishing new norms.
Communicating about the change consistently, by using a variety of media and providing good channels for effective two-way communication. Be open to listening and gathering feedback.
Training, mentoring, and coaching line management and remaining accessible to them throughout the change. Building and maintaining a healthy coalition of leaders who support the change.
Ensuring that resources for the change, especially people and training, are provided; this specifically includes funding. Are you investing and providing the tools for success?
Aligning the organization's infrastructure, environment, and reward systems with the change initiative, especially the way performance is measured and managed.
Ensuring ongoing alignment of the particular initiative with other organizational initiatives and with the organization's wider strategic goals.
Lack of effective sponsorship from executive sponsors and senior leaders is the primary obstacle to success. Sponsors that were inactive or invisible, not at the right level, not aligning with other leaders around the change, and wavering in their support are ineffective. Ineffective sponsorship resulted in more resistance and slower progress toward realizing the organization's desired results.
For mature ESOP organizations, re-engaging the executive sponsor can be an effective way to rebuild awareness and importance of employee-ownership within the organization