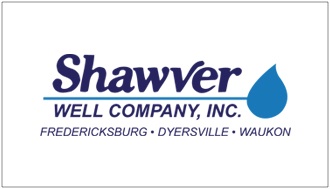 ESOP Partners announced the successful completion of a 100 percent sale of Shawver Well Company to an Employee Stock Ownership Plan (ESOP) representing the company's employees.
While Gary Shawver and his wife sold 100 percent of the outstanding company stock to the ESOP, he will continue to be on the Board of Directors and be actively involved with the company.The management team will remain the same.
Shawver was looking for a way to transition the business that would maintain local ownership of the 70-year old Iowa Company and keep the jobs of the 55 employees in the local community. Providing an ownership stake to the company's employees was also an important factor.
Shawver approached ESOP Partners in May to determine the feasibility of a 100 percent sale of the company to an ESOP. When Shawver compared an ESOP to other alternatives, he found that an ESOP made the most sense for him, the company, and the employees.
"Our customer-service-focused employees are the reason for Shawver Well's tremendous achievements—they've worked right alongside my dad and me for the last 75 years to build this company into the success it is today," says Gary Shawver, president of Shawver Well. "I'm more than pleased to reward our loyal employees with ownership shares for their contributions and to provide them with additional incentives for their continued dedication to our customers."
ESOP Partners worked with Shawver and company management to plan, structure and execute the sale. The ESOP transaction used the ESOP Succession Advantage™ Ownership Transition Process developed by ESOP Partners to streamline the ownership transition while maximizing cash and tax benefits. ESOP Partners will continue to work with the company both as an ESOP consultant and ESOP third party administrator (ESOP TPA).
"Gary was searching for a way to transition his business while at the same time rewarding his employees and keeping the company locally owned. The fact that a 100 percent sale to an ESOP is the most cash efficient and tax efficient solution was a bonus." Aaron Juckett, president of ESOP Partners said.
About ESOP Partners
ESOP Partners is an ESOP consulting and administration firm that provides a single ESOP expert as a point of contact throughout the lifecycle of the ESOP. The Company works with business owners and companies considering an ESOP to provide ESOP feasibility, plan design, and full ESOP implementation services. ESOP Partners also provides support for ongoing ESOP companies, including ESOP TPA services, distribution and repurchase obligation planning, and consulting services covering corporate governance, ESOP culture, employee communications, and second stage transactions.
About Shawver Well Company
Serving Eastern Iowa for nearly 70 years, Shawver Well Company is involved in all phases of installing, repairing and servicing water well systems for homes, businesses and municipalities. The company has offices in Fredericksburg, Dyersville and Waukon.
About ESOPs
ESOPs are qualified retirement plans that buy, hold and sell company stock for the benefit of the employees, providing an ownership stake in the company. ESOPs are the only retirement plan allowed to borrow money to purchase stock and are generally funded only by the Company. Selling part or all of a business to an ESOP enables a business owner to sell to a built-in buyer in as little as 60-90 days at full fair market value.
There are many significant tax and cash flow benefits of selling to an ESOP. An ESOP also allows for a better-managed ownership transition, preservation of local jobs, and the maintenance of a company's legacy in the community. According to the ESOP Association there are approximately 10,000 ESOPs in place in the U.S., covering 10.3 million employees (10 percent of the private sector workforce).
This press release was originally published on ESOP Partners' PitchEngine Account.