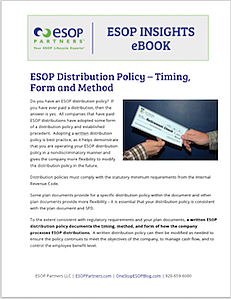 Do you have an ESOP distribution policy? If your ESOP has ever paid a distribution, you have adopted some form of distribution policy and established a precedent. But developing a written policy is a best practice that helps you demonstrate that you are operating your ESOP distribution policy in a nondiscriminatory manner – and gives you the flexibility to modify the distribution policy in the future.
Our eBook, "ESOP Distribution Policy," discusses the timing, form and method.
To download your free eBook, simply complete the form!