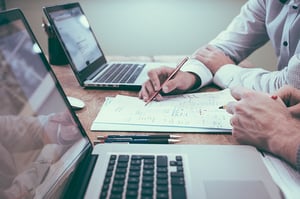 It is official: Pew Research reports until 2029, America's baby boom generation is turning 65 at a rate of 10,000 a day.
Due to the influx of retiring baby boomers, the business exit climate will become very crowded over the next ten to twenty years. There will be more supply than demand, possibly causing business valuations to suffer.
Baby boomers preparing for retirement are driving a surge in small business sales.
The clear majority of owner/managers have not developed an effective plan for transitioning out; many are reluctant to even acknowledge the need. The fact is, if you are a Baby Boomer and a business owner, you will likely sell your business within the next ten years. But before you stash that idea in a drawer until it's time to sell, consider the following:
There are more sellers than buyers – At the very moment you are expecting to turn a profit from the sale of your business, countless other Boomer business owners will be anticipating the same. There's a whole generation of owners looking for a way to turn their business entities into cash. The sheer number of Boomers alone means you'll almost certainly be selling in a buyer's market, crowded and competitive. Therefore, the best choice a Boomer business owner can make is to start planning their exit today. [Related reading: ESOP Business Exit Strategy: Sell While Retaining Company Control and Provide Full Payment At Fair Market Value]
Passing the business to family may not be an option– A third of family enterprises expect to pass on the business within the family, but this strategy may not be feasible for a number of reasons. Apart from a lack of expertise, a lack of funding, or not meeting other requirements to run the family business, surveys suggest that fewer young people want to take on the family business. [Related reading: Business Exit Strategy: ESOPs Save Jobs & Strengthen Local Community]
Business owners will want or need to access some of the significant wealth built in the value of the company, an illiquid asset – Facts show that less than half of business owners carry adequate retirement funds, relying solely on the sale of their business to support their retirement. This could be a recipe for disaster in the era of the baby boomer transition. [Related reading: Financial Planning: Use ESOP For Liquidity & Diversification]
While business owners certainly aren't the only people guilty of poor planning, boomers anticipating selling a business as they approach retirement in the coming years may be faced with a double whammy: lack of planning and a glut of supply. At the same time, they will not have ready access to their most valuable, yet illiquid asset – their company.
All Business Owners Will Benefit from Considering an ESOP
When you are planning, make sure you contemplate an ESOP as part of your analysis. While an ESOP isn't for everyone, all business owners will benefit from considering an ESOP.