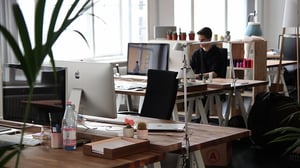 Efforts to engage and inspire employees with gimmicky perks will result in very little if you get the company culture wrong. Your Perks Aren't Motivating Your Employees shares some examples of how management plans of kindness and good intentions often turn into perks to nowhere and lost capital.
"When a corporate executive asks me what I recommend they do to change the paradigm of an ineffective corporate culture, I respond, "Concentrate on the soil." Concentrating on corporate soil isn't providing "more stuff". And while it is laudable to give new mothers nursing stations to breastfeed their infants, on-site gyms or gym memberships for athletic employees, and childcare facilities for young parents, this isn't the soil. These perks should be a result of good soil, not the soil itself. Perks such as these should be part of a larger cultural context, one that the employees believe in."
The best motivation you can provide an employee is to give them ownership in the company they work for. Selling to an ESOP increases job satisfaction and improves corporate performance. By selling to an ESOP, you will do more than just "cultivate the soil" of your company, you will actually begin to grow an ownership culture within your organization.