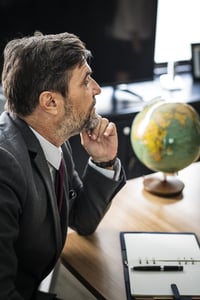 Hiring a new leader to join your employee ownership culture? I was recently speaking with a human resources manager compiling a job specification for a senior manager succession plan she needed to fill due to a pending retirement. As we began discussing the transition, a thoughtful dialogue on what leadership looked like in an employee-owned culture soon became the focus. Here are some key attributes we came up with.
Vision. Articulates a shared vision, sets clear direction and expectations. Is transparent and visible. Acts as a coach and mentors and ensures organizational alignment. Leads within values.
Value People. Leverages talent as a strategic differentiator; an employee ownership culture is all about the people.
Communication. Provides consistent and timely formal updates and informal check-ins on how the organization is doing. Exhibits interest and true desire to listen to hear from employees regarding their ideas and insights.
Team-based leadership. Values and leverages the strengths, knowledge, and diverse perspectives of the team to solve problems and deliver results. Fosters mutual accountability, encourages collaboration, and builds a "network of teams".
Develops others. Is passionate about developing others and inspiring his/her people to grow while discovering their skills and unique gifts. Places talent in opportunities where they can flourish.
Recruiting a new leader whose leadership style, experience, and background aligns with an employee ownership culture is an opportunity to reinforce what is imperative. If they have not worked in an employee ownership culture but have the essential attributes, we can teach them the rest. Thoughtful planning can lead to succession planning results.
Hiring for a key leadership position? Give us a call, we can help.