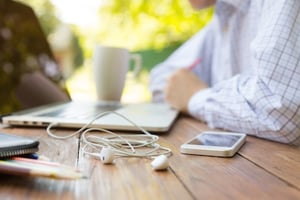 For companies that have an Employee Stock Ownership Plan or are considering an ESOP, one of the challenges is to maximize the engagement of your newly empowered employees.
At a recent presentation I attended with HR professionals, this was a hot topic. The speaker talked about generational differences in the workplace. One of the biggest differences is in work-from-home policies.
My takeaways: Let's get the work done. And let's make it possible for every generation to be most comfortable in its approach to work.
Knowledge Workers
If you're in front-line manufacturing or an on-site customer service business, you need your staff to be at the factory or store to get the work done. But if your staff is made up of knowledge workers, let them figure out where and when they can meet their objectives and get work done. According to the Society of Human Resource Management (SHRM):
"Just about everybody who isn't a factory worker is a knowledge worker, ranging from the CEO to the janitor. It's not so much who they are but what they do. There have always been knowledge workers. Their work is not mechanical, and it varies. Knowledge workers talk, text and network. They have to be creative, as they make decisions individually and collectively."
Knowledge workers are becoming more prevalent because of their close ties to information technology, financial services and any business sector that deals with knowledge as the basis of work.
Generational or Personality Differences
Here's where the generational differences enter. While baby boomers are accustomed to the 9-to-5, 40-hour work week in a cubicle at the office, millennials prefer a creative atmosphere and want control over their work processes and time.
The theory that time spent at work equals productivity has been shattered. If someone has a breakthrough idea about an analysis at 4 a.m., then 4 a.m. might be the most creative and effective time for that person to be on the job. If a single parent likes to get his kids to school and then plug-in for a few hours at the local coffee shop, that's a good time and space to get work done, too.
So how does a manager, well, manage it?
Promote collaboration: Have the tools available so the team can collaborate. Video conferencing should be easy and used often.
Build trust: Know what each member of your staff is working on, be involved and coach as necessary.
Have clear objectives, timelines and expected results: This is an opportune time to discuss the ESOP reality that every employee is an owner. Doesn't every owner want their company to succeed?
As an employee owner in a management role, you're in a position of servant leadership — helping to remove roadblocks so your team can be most productive. It's never an easy process. It takes interpersonal skills to find the sweet spot that motivates each employee, whether it be working in a cube or working from a quiet park bench. But the result — a synergistic, engaged team — will have a positive impact on both your employees' career satisfaction and the company's bottom line.
Now, let's get to it!