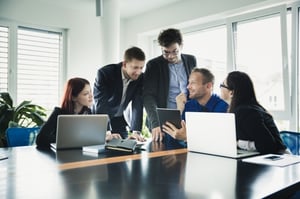 Currently, the job market is experiencing record low unemployment, so retention is KEY. A recent Gallup Poll showcases the current landscape for employees in terms of their level of engagement for an employer.
32.5% of employees are engaged
51.8% of employees are not engaged
15.7% of employees are actively disengaged
Recommendations to Improve Engagement and Retention
Management and Leadership - 50% of all voluntary turnover is due to poor management. Some studies (such as one by SHRM) predict that every time a business replaces a salaried employee, it costs six to nine months' salary on average. Focus on ways to improve and develop your company's leadership team by having a clear internal communication strategy that is executed transparently.
Meaningful work - This point was the third most important factor for employee engagement by 76% of the respondents to SHRM's 2016 Employee Job Satisfaction and Engagement Report. Engage employees with meaningful work or watch your employees walk out the door.
Relationships with co-workers - According to a statement from a Gallup Q12 survey, when you have a close friend at work, you feel a stronger connection to the company and you're more excited about coming to work every day.
Ways to Incorporate Your ESOP
Consider a formal mentor program by pairing up a tenured and seasoned employee with a newer and younger employee for some one-on-one mentoring.
Develop younger ESOP Committee members with the help of board members to improve each committee member's overall understanding of the ESOP.
Celebrate each stage within the career life cycle of an ESOP participant.
Share the unique, non-traditional benefits associated with working for an employee-owned company during the interview & application, onboarding, and the employee's annual review process.
Recognize employee-owners that are making a difference within the organization.
Increased productivity, higher job growth, 2 ½ times greater wealth in their retirement accounts, and 5% - 12% more in wages are just a few benefits to help engage and retain employees through an ESOP.