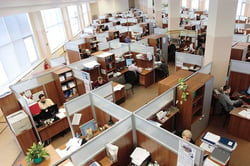 We have previously discussed how ESOP Companies are Better at Job Retention than their Non-ESOP Counterparts.
The results of the 2014 GSS were consistent with the Findings of the 2010 General Social Survey (GSS) that found that ESOP and employee owned companies provide more sustainable employment, as employees were four times less likely to be laid off and were less likely to leave a company.
The ESOP Association Blog points out that Employee Owned Firms are 235% Better at Job Retention Counterparts.
For every person laid off with an employee owned company, 7.3 employees are laid off from non-employee owned companies.
The ESOP Association has created a very powerful chart that illustrates the layoffs of employee owners vs. non-employee owners: