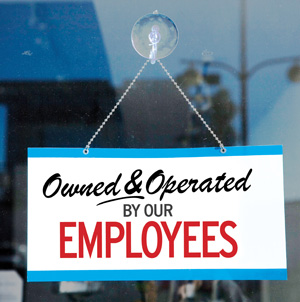 Research has demonstrated that job satisfaction and employee engagement are driven by having a meaningful ownership stake AND an active participation in the decision making process. When employee ownership and participative management are combined, "substantial gains result". The NCEO's Research on Employee Ownership and Corporate Performance reiterates the formula of EMPLOYEE OWNERSHIP + PARTICIPATIVE MANAGEMENT = OWNERSHIP CULTURE:
Over the years, the NCEO has conducted and reported on research on employee ownership and corporate performance. The research comes to a very definite conclusion: the combination of ownership and participative management is a powerful competitive tool. Neither ownership nor participation alone, however, accomplishes very much...Researchers now agree that "the case is closed" on employee ownership and corporate performance. Findings this consistent are very unusual. We can say with certainty that when ownership and participative management are combined, substantial gains result.
One study found that ESOP companies had sales growth rates 3.4% per year higher and employment growth rates 3.8% per year higher. Other studies report sales growth of 3.8% and 2.4% and employment growth of 3.4% and 2.3%.
ESOP companies that were also participatively managed grew 8% to 11% per year faster than they would have been expected to grow.
The 2010 General Social Survey (GSS) found that employee ownership results in lower turnover and fewer layoffs, as employees were four times less likely to be laid off and less likely to leave a company. As a result, ESOP companies Saved the Federal Government More Than $14 Billion in Federal Revenues in 2010. Other research has found that:
In addition to providing greater employee stability and job satisfaction, ESOPs reward employees and help preserve a company's legacy. Other benefits of incorporating an ESOP in your Exit Strategy include:
1) Enables a business owner to Sell in 60-90 Days with an ESOP Built-In Buyer, providing Diversification and Liquidity, while at the same time Retaining Control of the Company and Protecting Local Jobs and the Local Community,
2) Increases the After-Tax Proceeds for the Seller, Providing a Greater Overall Return,
3) Pays For Itself by Eliminating Company Income Taxes and Increasing Company Cash Flow,
4) Provides an opportunity for an Additional Rate of Return of 10-15%+, and
5) Offers Additional Opportunities to Find Value for the Business Owners.