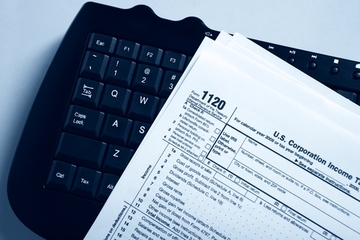 Employers are limited to the amount of contributions that can be contributed to their defined contribution plans, which includes ESOPs, and deducted on their corporate tax returns. The deduction limit under IRC §404(a)(3) is 25% of the aggregate compensation of the plan participants and covers:
matching contributions

money purchase contributions

profit sharing contributions

ESOP contributions for an S Corporation

C Corporation ESOP contributions not used for loan payments.
401(k) deferrals are not subject to the 25% deduction limit, as stated in IRC §404(n).
Compensation
Treasury Regulations §1.404(a)-9(b) direct that compensation used to determine the 25% limit is based on the compensation otherwise paid or accrued by the employer during such taxable year to employees who are beneficiaries under the plan. Being able to use gross compensation up to the IRC §401(a)(17) compensation limit makes it easier to calculate the deduction limit.
There are a couple important items to note, however, when performing the administration of your ESOP:
The deduction limits are based on compensation earned during the corporation's taxable year. If the plan year is different the fiscal year, there is a good chance two sets of compensation values will need to be used, one for deductibility purposes, and the other for plan allocation purposes.

The ESOP plan document definition of compensation may be different than the compensation used for deduction limits. For example, the plan document may exclude bonuses from the definition of compensation for plan allocation purposes. Read my blog on compensation used for plan allocation purposes for more information on that subject.

The IRS has been providing mixed views regarding if compensation can be included for a participant that was eligible to defer in a 401(k) plan, but did not receive a match or profit sharing contribution. At the ASPPA Annual Conference in October 2008, IRS representatives said that this compensation could be included to determine the 404(a)(3) deduction limit. In Private Letter Ruling 201229012, the IRS position is the term "beneficiaries" only apply to participants that receive an allocation of employer contributions in the plan. Be sure to consult with your professional advisors before using compensation of participants eligible to defer but not receiving any other contributions.
Additional ESOP Deductions
Under IRC §404(a)(9), C Corporations sponsoring an ESOP are allowed an additional 25% deduction for contributions applied to the repayment of the principal on an exempt ESOP loan (as described in IRC §4975(d)(3)). The special deduction limit is 25% of aggregate participant compensation sharing in the ESOP contribution. In addition, there is no deduction limit for contributions used to make interest payments on the ESOP Loan, as long as the contributions do not exceed the section 415 limitations as cited in IRC §404(j).
The additional ESOP deduction is not applicable to leveraged ESOPs sponsored by an S Corporation. Contributions used for principal and interest payments in ESOPs sponsored by and S Corporation must be included in the 25% limit under IRC §404(a)(3).