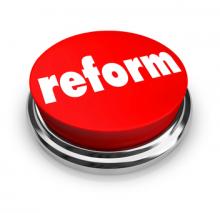 An AICPA press briefing suggests that tax reform prospects are good, though probably not until next year. Two veterans of the 1986 reform process compare the current environment to the environment in 1986:
Some positive factors are similar as well, Longano said: a consensus on the need for tax reform, especially to simplify individual tax provisions; able leadership by congressional committee chairmen and President Barack Obama; and expertise among taxwriting members of Congress. With 11 working groups of the House Ways and Means Committee and weekly meetings by Senate Finance Committee Chairman Max Baucus, D-Mont., the process is already under way, he said.
House working groups on small businesses, financial products, and foreign-source income have already publicly released discussion drafts (available at the committee's website).
Moreover, Longano said, advances in communications technology in the past nearly three decades can be a "friend to this process." In May 1985, when Reagan spoke on national television about tax reform, Longano's boss, then-chairman of Ways and Means Dan Rostenkowski, D-Ill., gave the opposition party's response, calling for citizens' ideas.
The article also referenced the AICPA's 10 Administerability Issues for Consideration During Comprehensive Tax Reform:
Alternative Minimum Tax (AMT)

Education Incentives

Earned Income Tax Credit (EITC)

Phase-outs

Different Definitions of the Same Term

Kiddie Tax

Retirement Plan Options

Inflation Adjustments

Due Dates

Unused Provisions (a/k/a "Deadwood")
The House Committee on Ways and Means held 20 hearings during the 112th Congress on comprehensive tax reform. In February, Chairman Rep. Dave Camp [R-MI] and Sander Levin [D-MI] announced the formation of 11 separate Ways and Means Committee Tax Reform Working Groups. On March 12, Camp released two options for Small Business Tax Reform.
ESOP Association President J. Michael Keeling recently provided a very detailed explanation of the tax reform process that is underway and what it will mean for the ESOP community:
The two highlighted areas of concern for ESOP companies during the tax reform process were also discussed in our 2012 Update on ESOPs and Corporate Tax Reform. Congress will review tax laws related to ESOPs and all qualified retirement plans to find tax expenditures or "tax loopholes", depending on the perspective. They will also be looking at the taxation of pass thru entities (RE: S Corporations).
The ESOP Association has also identified the ESOP advocates of the 113th Congress:
Alabama = 1 (House)
Congresswoman Jo Bonner (R-AL)
Arizona = 3 (2 House, 1 Senate)
Congressman Raul Grijalva (D-AZ)

Congressman Ed Pastor (D-AZ)

Senator John McCain (R-AZ)
California = 7 (all House)
Congressman Ken Calvert (R-CA)

Congressman Michael Honda (D-CA)

Congresswoman Barbara Lee (D-CA)

Congressman Howard McKeon (R-CA)

Congressman Dana Rohrabacher (R-CA)

Congressman Edward Royce (R-CA)

Congressman Mike Thompson (D-CA)
Colorado = 1 (House)
Congressman Jared Polis (D-CO)
Connecticut = 3 (2 House, 1 Senate)
Congressman Joe Courtney (D-CT)

Congressman John Larson (D-CT)

Senator Richard Blumenthal (D-CT)
Florida = 4 (all House)
Congressman Vern Buchanan (R-FL)

Congressman Jeff Miller (R-FL)

Congressman Bill Posey (R-FL)

Congresswoman Ileana Ros-Lehtinen (R-FL)
Georgia = 3 (1 House, 2 Senate)
Congressman John Lewis (D-GA)

Senator Saxby Chambliss (R-GA)

Senator Johnny Isakson (R-GA)
Guam = 1 (House)
Congresswoman Madeleine Bordallo (D-GU)
Idaho = 1 (Senate)
Senator Michael Crapo (R-ID)
Illinois = 7 (all House)
Congressman Danny Davis (D-IL)

Congressman Randy Hultgren (R-IL)

Congressman Adam Kinzinger (R-IL)

Congressman Mike Quigley (D-IL)

Congressman Peter Roskam (R-IL)

Congresswoman Janice Schakowsky (D-IL)

Congressman Aaron Schock (R-IL)
Indiana = 3 (all House)
Congressman Larry Bucshon (R-IN)

Congressman Andre Carson (D-IN)

Congressman Todd Rokita (R-IN)
Iowa = 5 (4 House, 1 Senate)
Congressman Bruce Braley (D-IA)

Congressman Steve King (R-IA)

Congressman Tom Latham (R-IA)

Congressman David Loebsack (D-IA)

Senator Charles Grassley (R-IA)
Kansas = 4 (2 House, 2 Senate)
Congresswoman Lynn Jenkins (R-KS)

Congressman Kevin Yoder (R-KS)

Senator Jerry Moran (R-KS)

Senator Pat Roberts (R-KS)
Kentucky = 2 (1 House, 1 Senate)
Congressman Brett Guthrie (R-KY)

Senator Mitch McConnell (R-KY)
Louisiana = 4 (3 House, 1 Senate)
Congressman Rodney Alexander (R-LA)

Congressman Charles Boustany, Jr. (R-LA)

Congressman William Cassidy (R-LA)

Senator Mary Landrieu (D-LA)
Maine = 3 (2 House, 1 Senate)
Congressman Michael Michaud (D-ME)

Congresswoman Chellie Pingree (D-ME)

Senator Susan M. Collins (R-ME)
Maryland = 1 (Senate)
Senator Ben Cardin (D-MD)
Massachusetts = 2 (all House)
Congressman James McGovern (D-MA)

Congressman Richard Neal (D-MA)
Michigan = 2 (all House)
Congressman Dave Camp (R-MI)

Congressman Sander Levin (D-MI)
Minnesota = 5 (4 House, 1 Senate)
Congresswoman Betty McCollum (D-MN)

Congressman Erik Paulsen (R-MN)
Congressman Collin Peterson (D-MN)
Congressman Timothy Walz (D -MN)

Senator Amy Klobuchar (D-MN)
Mississippi = 1 (House)
Congressman Alan Nunnelee (R-MS)
Missouri = 6 (5 House, 1 Senate)
Congressman Emanuel Cleaver (D-MO)

Congressman Sam Graves (R-MO)

Congresswoman Vicky Hartzler (R-MO)

Congressman Billy Long (R-MO)

Congressman Blaine Luetkemeyer (R-MO)

Senator Roy Blunt (R-MO)
Montana = 1 (Senate)
Senator Max Baucus (D-MT)
Nebraska = 1 (House)
Congressman Lee Terry (R-NE)
Nevada = 1 (House)
Congressman Joseph Heck (R-NV)
New Hampshire = 2 (all Senate)
Senator Kelly Ayotte (R-NH)

Senator Jeanne Shaheen (D-NH)
New Jersey = 5 (4 House, 1 Senate)
Congressman Robert Andrews (D-NJ)

Congressman Rodney P. Frelinghuysen (R-NJ)

Congressman Rush Holt (D-NJ)

Congressman Bill Pascrell, Jr. (D-NJ)

Senator Robert Menendez (D-NJ)
New York = 5 (all House)
Congresswoman Carolyn Maloney (D-NY)

Congressman William Owens (D-NY)

Congressman Charles Rangel (D-NY)

Congressman Tom Reed (R-NY)

Congressman Jose Serrano (D-NY)
North Carolina = 4 (3 House, 1 Senate)
Congressman Howard Coble (R-NC)

Congressman Walter Jones, Jr. (R-NC)

Congressman Melvin Watt (D-NC)

Senator Richard Burr (R-NC)
Ohio = 8 (6 House, 2 Senate)
Congressman John Boehner (R-OH)

Congressman Steve Chabot (R-OH)

Congresswoman Marcy Kaptur (D-OH)

Congressman Steve Stivers (R-OH)

Congressman Patrick Tiberi (R-OH)

Congressman Michael Turner (R-OH)

Senator Sherrod Brown (D-OH)

Senator Rob Portman (R-OH)
Oklahoma = 1 (House)
Congressman Frank Lucas (R-OK)
Oregon = 4 (3 House, 1 Senate)
Congressman Earl Blumenauer (D-OR)

Congresswoman Suzanne Bonamici (D-OR)

Congressman Greg Walden (R-OR)

Senator Ron Wyden (D-OR)
Pennsylvania = 7 (all House)
Congressman Michael G. Fitzpatrick (R-PA)

Congressman Jim Gerlach (R-PA)

Congressman Tom Marino (R-PA)

Congressman Tim Murphy (R-PA)

Congressman Joseph Pitts (R-PA)

Congresswoman Allyson Schwartz (D-PA)

Congressman Glenn Thompson (R-PA)
Rhode Island = 1 (Senate)
Senator Sheldon Whitehouse (D-RI)
South Carolina = 1 (House)
Congressman James Clyburn (D-SC)
South Dakota = 3 (1 House, 2 Senate)
Congresswoman Kristi Noem (R-SD)

Senator Tim Johnson (D-SD)

Senator John Thune (R-SD)
Tennessee = 1 (House)
Congressman John Duncan, Jr. (R-TN)
Texas = 10 (all House)
Congressman Kevin Brady (R-TX)

Congressman John Culberson (R-TX)

Congressman Gene Green (D-TX)

Congresswoman Eddie Bernice Johnson (D-TX)

Congressman Sam Johnson (R-TX)

Congressman Kenny Marchant (R-TX)

Congressman Pete Olson (R-TX)

Congressman Ted Poe (R-TX)

Congressman Pete Sessions (R-TX)

Congressman William Thornberry (R-TX)
U.S. Virgin Islands = 1 (House)
Congresswoman Donna M. Christensen (D-VI)
Utah = 2 (1 House, 1 Senate)
Congressman Rob Bishop (R-UT)

Senator Orrin Hatch (R-UT)
Vermont = 3 (1 House, 2 Senate)
Congressman Peter Welch (D-VT)

Senator Patrick Leahy (D-VT)

Senator Bernard Sanders (I-VT)
Virginia = 5 (all House)
Congressman Eric Cantor (R-VA)

Congressman Gerald E. Connolly (D-VA)

Congressman Randy Forbes (R-VA)

Congressman Bob Goodlatte (R-VA)

Congressman James Moran (D-VA)
Washington = 3 (2 House, 1 Senate)
Congresswoman Cathy McMorris Rodgers (R-WA)

Congressman David Reichert (R-WA)

Senator Maria Cantwell (D-WA)
West Virginia = 3 (2 House, 1 Senate)
Congressman David McKinley (R-WV)

Congressman Nick Rahall (D-WV)

Senator John D. Rockefeller (D-WV)
Wisconsin = 7 (6 House, 1 Senate)
Congressman Ron Kind (D-WI)

Congresswoman Gwen Moore (D-WI)

Congressman Thomas Petri (R-WI)

Congressman Reid Ribble (R-WI)

Congressman Paul Ryan (R-WI)

Congressman James Sensenbrenner (R-WI)

Senator Tammy Baldwin (D-WI)
If you're wondering, the states without ESOP advocates are:
Alaska

Arkansas

Delaware

Hawaii

New Mexico

North Dakota

Wyoming