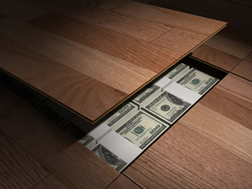 In addition to the Greater After-Tax Payments that a business owner gets from incorporating an ESOP in their Business Exit Strategy, incorporating an ESOP can provide additional ways to capture additional consideration and benefits beyond the sales price.
ESOP Account Balance
In many cases a business owner will take advantage of the opportunity to Sell to an ESOP While Retaining Control of the Company or, at a minimum, remain employed with the company for a transition period or extended period of time. As an employee of the company, the business owner would generally be eligible to participate and accrue benefits in the ESOP on an annual basis. Depending on the amount of compensation that the business owner will continue to receive on an ongoing basis, they will accumulate shares inside the ESOP (in many cases they will receive the largest ESOP allocation each year). The ownership will accumulate inside the ESOP each year and provide an additional ERISA-protected retirement benefit that will be paid to the business owner after they leave the company.
[NOTE: This option is not available to business owners that elect to Sell Stock to an ESOP in an IRC Section 1042 Tax Deferred Sale.]
Synthetic Equity
The terms of a sale to an ESOP often include synthetic equity instruments to provide additional payments and incentives for the business owner to remain employed and engaged, to grow the company, and quickly pay off the external ESOP debt.
Additional synthetic equity may also be warranted to provide additional consideration if the seller is financing part or all of a transaction, particularly when the seller is assuming subordinated debt. Synthetic equity is defined by the IRS as "any stock option, warrant, restricted stock, deferred issuance stock right, or similar interest or right that gives the holder the right to acquire or receive stock of the S corporation in the future."
Stock Warrants and Stock Appreciation Rights (SARs) are two of the most common types of synthetic equity structures. The synthetic equity programs are flexible and are designed to meet the company's objectives and, in many cases, to provide employees with the value of a stock award without requiring the employee to purchase the instrument with cash or take ownership of the stock in the future. The actual type of synthetic equity instrument used and the overall size of the award are details that are determined by the company and often negotiated as part of the ESOP transaction.
[NOTE: It is also important to understand the impact that the synthetic equity will have on the IRC Section 409(p) Anti-Abuse Testing.]