A recent article from the Human Capital Institute (HCI), "Want Trust? Be a Leader" says, "to be trusted is a greater compliment than to be loved".
Trust begins at the top, and one of the most effective opportunities for a business owner or manager to demonstrate trust in their employees is to implement an ESOP (Employee Stock Ownership Plan).
Tangible elements of job satisfaction, like an employee's salary and benefits, are obvious motivators, as these are the things that sustain an employee and contribute to their quality of life for both them and their families. However, the implementation of an ESOP goes one step further, establishing a culture of ownership with significant intangible motivators for the employee, and ultimately increasing an employee's contributions to the profits and success of the company.
The HCI article goes on to ask, "in the world of work, establishing trust first falls to leadership. Do your leaders exercise trustful behaviors and words? Or, are they more like bosses – independently successful, but singularly focused and separate from the collaborative nature of work?" Read more here about the qualities that can make the difference between a boss and a leader.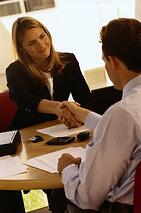 Research has shown that the once singular goal of worker productivity to produce profits and success for a company has now been replaced in today's business model by the intangibles which now prove to be the driver of employees to do their best. Intangibles such as an employee really believing in the company's mission, seeing a supervisor as a trusted leader, a coach and most importantly, a fellow peer rather than just "the boss", all make significant contributions to increased job satisfaction, and in turn, better productivity and profitability for the company as a whole.
Organizational trust has now stepped onto center stage as a model for success during these trying economic times. Selling to an ESOP is a great way to embrace this cutting edge model for the future of your company!