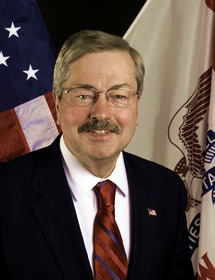 Iowa Governor Terry Branstad recently included Selling to an ESOP as one of his 2012 initiatives in his 2012 Condition of the State address:
The final piece to this jobs and careers puzzle involves the dilemma faced in many rural Iowa communities when a local anchor business is put up for sale.
When hometown businesses are sold to out of town, out of state, or out of country buyers, the local community often suffers.
We must work to keep Iowa companies in Iowa, even when an ownership change takes place.
This is not just a tool for Iowa businesses; it is a tool for Iowa communities–Iowa communities where these companies represent so much more than jobs; where these companies represent our families, friends and way of life.
Many of these companies have operated in Iowa for years, operated by owners committed to the local way of life. And when these owners wish to retire, they must have options for keeping their company local.
I am proposing legislation that will encourage the formation of Employee Stock Option Plans to encourage the sale of these local businesses to the very employees who have made that company a profitable success.
Our plan will encourage more Iowans to own a stake in their company, to reap a greater share of the fruits of their own labor, and to help protect the quality of life in their local community.
Employee ownership is great for the Iowa communities in which these businesses, jobs, and careers exist.
Branstad pitches economic initiatives in Condition of the State address discusses some of the details, including a state deduction on state capital gains taxes for the selling business owner and assistance by the Iowa Economic Development Authority.
Under Branstad's plan, a business owner would receive a deduction on state capital gains taxes when he sold his company to employees.
Such an incentive could encourage an owner to help finance the sale, said Stephanie Silverman, president of Employee-Owned S Corporations of America, a trade group.
"Wherever the state can create incentives for the original owner, that helps defray the cost of financing and is more likely to yield additional employee ownership," she said.
The Economic Development Authority also would offer technical assistance and legal advice to employee buyers.
Here is a list of some of the other state ESOP and employee ownership programs:
Please let me know if you are aware of a state program that I missed.